Across the world, 2020 has presented countless hardships, but in this season of giving around the winter holidays, the world came together in support of one another. While this shared support came in the form of record-setting donations and acts of kindness, social media acted as the glue that tied it all together and helped spread the word.
GivingTuesday, one of the biggest driving forces behind this movement, was created in 2012 as a simple idea: a day that encourages people to do good. Over the past eight years, it has grown into a year-round global movement that inspires hundreds of millions of people to give, collaborate, and celebrate generosity.
This year on December 1, 2020, GivingTuesday saw a 29% increase in participation and a 25% rise in giving year-over-year with an estimated 34.8 million people contributing over $2.47 billion. These totals are in addition to the surge of generosity represented by #GivingTuesdayNow launched by GivingTuesday earlier this year, when more than $503 million in online donations were contributed in the U.S. alone.(1)
The outpouring of support is inspiring to see, and it bodes the question of what contributed to this swell in participation? 
Social Media for Social Impact
Certainly, efforts by the GivingTuesday team at the grassroots level to mobilize entrepreneurial leaders and expand global involvement, including 12 new countries this year, cannot be understated. The role that social media plays in connecting the movement digitally and spreading awareness must also be taken into account.
Trending globally with over 600K posts on Twitter alone, #GivingTuesday content flooded the timelines of the 3.8 billion daily social media users, spreading the message and inspiring action. Celebrities including Lady Gaga, Robert Downey Jr. and Michelle Obama leveraged social platforms to unite their audience in support and make a social impact.
To capture the conversation and create further incentive to give, GivingTuesday featured this content directly within their Virtual HQ website. The Tagboard digital display garnered over 1.2 million post impressions and allowed visitors to interact directly with the featured content.
"The Tagboard digital integration helped us capture and visualize the conversation on social media within our Virtual HQ website," said Kathleen Murphy, Director of Digital Strategy for GivingTuesday. "Incorporating it helped grow the reach of our movement by encouraging more people to share the message behind it after seeing how others contributed."
Sharing and Capturing Kindness
Beyond GivingTuesday itself, the season of giving around winter holidays often inspires both individuals and brands to create their own movement for good. One example that embodied the spirit of giving in particular this year originated from T-Mobile.
In a partnership with Feeding America, the T-Mobile #CaptureKindness campaign prompted people to share an act of kindness on social media. With a goal of providing 10 million meals to families in need, T-Mobile committed to donating 100 meals for every act of kindness shared, and the response was extraordinary.
Across the nation, people took action by organizing gift and food drives, donating clothes and backpacks to the homeless, paying for the order for someone behind them in line, or simply spreading kindness. Celebrities also joined the movement, and T-Mobile captured each act of kindness online as the Kind-O-Meter grew towards their goal.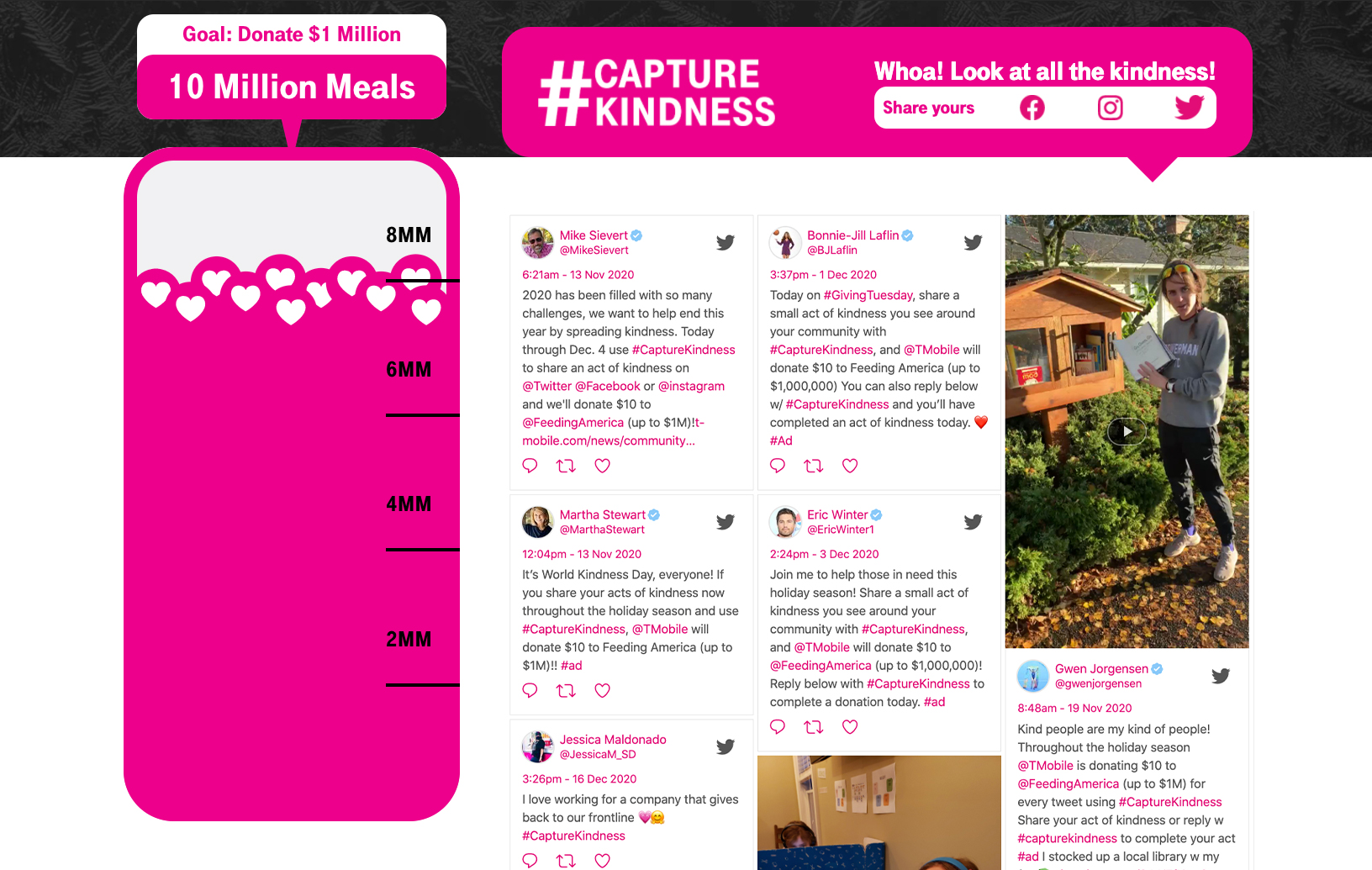 Every act of kindness goes a long way, perhaps this year more than any other. Organizations like GivingTuesday and T-Mobile stepped up to lead initiatives that encourage generosity, and by using social media to capture and amplify the message, the impact on society for good continues to grow.
Have a great story about other organizations creating a social impact or want help promoting your own campaign? Reach out to us at marketing@tagboard.com or @Tagboard on Twitter.
(1)  https://hq.givingtuesday.org/after-year-of-global-crisis-millions-respond-with-massive-swell-of-generosity-and-shared-humanity-on-givingtuesday-2020/